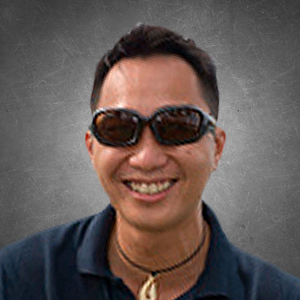 Chris Tan
Senior Cameraman
Chris is Kadazan-Dusun – true Sabahan, born and raised in Keningau, Sabah. Prior to joining Scubazoo in 2003, Chris worked as a divemaster in Kota Kinabalu but has since done over 3000 dives all over Asia and the Pacific. Now an experienced senior cameraman, Chris formed part of the Scubazoo team who worked on the ARCBC shoot in Thailand and the Philippines in 2004.
For the last few years, Chris has been broadening his broadcast experience as a production coordinator for ITV's The Parent Trip, National Geographic's Coral Triangle, Exploring Malaysia, Wildest River, BBC's Moonsun, Sky TV's Conquest of the Sky, Discovery Channels' Man vs Wild and many more. He has worked on several high-profile shoots including Deadly 60, (BBC NHU), The Continent (BBC), Malaysia from Below , Exploring Malaysia (National Geographic), Discover Kenya, Glamorous Sri Lanka (CCTV), 60 Minutes ( Nine Network Australia), The Seasmith, Beach Life, Passage to Malaysia (Discovery TLC) , Naked and Afraid (Discovery Channel) and Amazing Race (AXN). He has shot and produced promotional DVD's for Pom Pom Island Dive Resort, Sipadan Water Village and Kima Bajo Resort and Spa and in 2009 he crossed the Pacific as the onboard cameraman for the Greenpeace vessel Esperanza during their campaign to stop Tuna fishing in the Pacific. Chris has won an award for best cinematography from Asian Television Award for his work on Discovery TLC's Passage to Malaysia.
When he's not in the water (which is rare) Chris is usually found on his Mountain bike and in the gym.